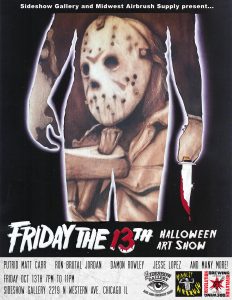 Sideshow Gallery, Midwest Airbrush Supply and Revolution Brewery have put together an art show guaranteed to scare the hell out of you! Or, at least impress the hell out of you with some bad-ass artwork from some extremely talented airbrushers and other artists alike.
Feast your eyes on some ghastly nightmare clown portraits from Christian "Crispy" Pena,  peer into the twisted mind of airbrush wiz Ron "Brutal" Jordan or just have your final breathe taken away by the deeply disturbing and masterful ink renderings of gore mag master "Putrid" Matt Carr. Plus, get shocked and horrified by some dark-sided 3D custom airbrush projects by Jesse Lopez and Damon Rowley. And if that weren't enough to lure you in, come see a creepy collection of art by airbrush icons Javier Soto and Steve Driscoll.
So why not test your luck this Friday The 13th and stop by for some libations and browse an incredible selection of original artworks and prints!
Where: Sideshow Gallery 2219 N Western Ave Chicago IL
When: Friday October 13th 7PM to 11PM