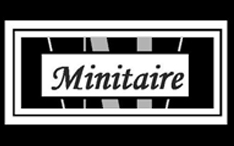 Badger Minitaires are a professional grade, water-based, non-toxic that is airbrush ready or can be use with a detail brush. Perfect for miniatures and other figures as well hobbies and crafts that require a semi-gloss finish.
Use Base Grey as a primer for best results. Shake well before using.
Airbrush ready colors for miniatures, models and more!
-Excellent adhesion
-80 color pallete perfect for war gamers
-User friendly water-based formulation
-Can be used with airbrush or paint brush
-Easy to clean
-Has a glossy durable finish!