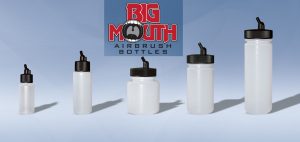 Iwata Big Mouth Bottles
Big Mouth Bottles have never-before-seen features that will change your airbrush life! The offset connector allows larger diameter bottles to affix easily to your airbrush and the raised air intake creates a splash proof opening. The Big Mouth are solvent-proof and also have a durable, one-piece, easy-to-clean cap and leak-proof seal!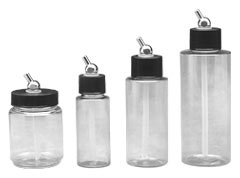 Iwata Crystal Clear Bottles
Light weight plastic paint bottles used for most bottle feed airbrushes.
Available in 1oz, 2oz and 4oz
· Add versatility to any side-feed Iwata airbrush with these bottles and cups
· Fits Iwata models HP-SB Plus, CM-SB, Eclipse-SBS
· With the AD31 adapter, you can use Iwata or Aztek side feed plug-in reservoirs
with your Grex Genesis.XS, XT or Tritium.TS airbrushes!