Expert Review: Grex claims to be an innovative airbrush company and with the Tritium they have certainly proven themselves to be so. Pistol style airbrushes have been around for a long time but none have launched into popularity like the Grex TG and TS models. Maybe that's because every inch of this airbrush is so thoroughly well thought out. And although the price point may turn off some beginners it's actually easier for first timers to learn on than the top trigger style. Price $209.
Design:

★

★

★

★

★

Quality:

★

★

★

★

★

Cost to Performance Ratio:

★

★

★

★

★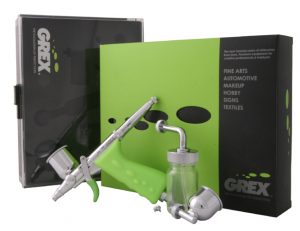 The Grex Tritium Series is a truly unique line of premium pistol style airbrushes. The pistol style trigger action proves to be much easier to learn for most beginners and has converted many experienced airbrush users who prefer its ergonomics to the conventional top trigger style.
Pull the trigger and you will start to get air. Keep pulling and you will start to feel a little tension. Continue to pull after feeling the tension; that's when the paint will start spraying. The further you pull the more paint flows. Total control.
The ergonomics of the Tritium are impeccable. It is both balanced and light weight. The handle is perfectly formed to fit the users hand and is made of soft plastic. The trigger is also covered in plastic. These factors contribute to reduce the risk of "the claw" (a common unfortunate condition where the airbrush users hand cramps up into a claw like shape.)
Another advantage to the Tritium series airbrushes are their versatility. The TG is offered in not one but three nozzle sizes: TG2 .2mm, TG3 .3mm and TG5 .5mm. You pick the model that applies to your needs. Plus, Grex offers convenient conversion packs that allow you to convert the nozzle size with all necessary parts (needle, nozzle and cap) to do so. In addition to the wide array of nozzle sizes many cup sizes are available too. Included are the 2mL (1/20 oz.), 7mL (1/4 oz.) and 15mL (1/2 oz.) cups. Sold separate is the 50ml (1.7 oz) cup.
Regular price: $299.00

Sale price: $209.00
Regular price: $299.00

Sale price: $209.00
Regular price: $299.00

Sale price: $209.00
Regular price: $299.00

Sale price: $209.00
Regular price: $299.00

Sale price: $209.00
Regular price: $299.00

Sale price: $209.00
Regular price: $569.98

Sale price: $439.00
Regular price: $569.98

Sale price: $439.00