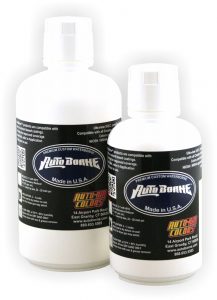 AutoBorne Sealers are the recommended foundation for any Createx Colors automotive or hard-surface paint-job. Color-key with color-coat for improved overall coverage and drying times.
Incredible adhesion to any substrate to any surface including plastics. No adhesion promoter is ever required.
Covers excellent in 2 medium coats.
Dries fast to a level, hard finish over which colors flow for a smooth finish.
Waterproof after curing, perfect for exterior applications.
Shaves well when dry sanded with 1000-grit sandpaper.
Does not have to be scuffed prior to applying Createx Colors paints.
Reduce 10% per volume 4012 High Performance Reducer
Apply with a 1.3 – 1.4 tip-size gun operated ~ 20 – 23 psi.
Allow Sealer to dry matte before re-coating.
If used as finish color, clean Sealer thoroughly with degreaser prior to clear or apply 4004 Transparent Base as protective coat to prevent reaction between catalyzed clear and Sealer.