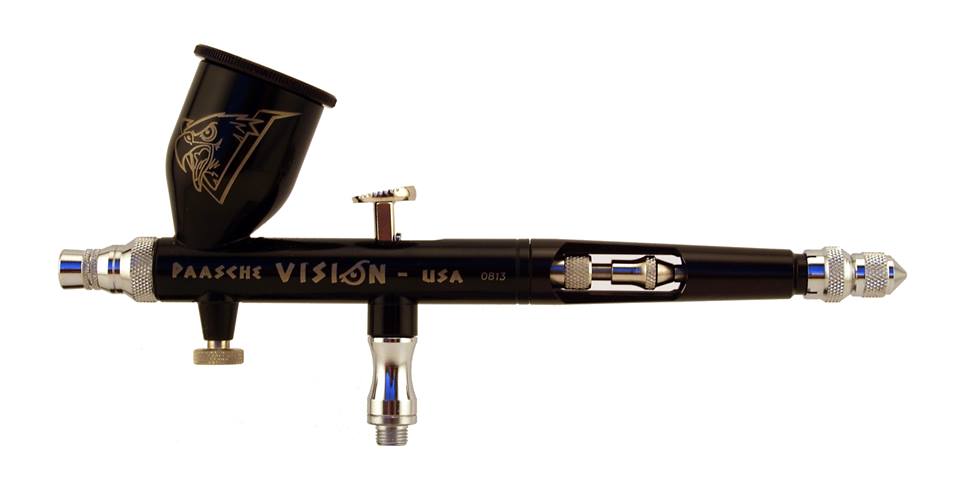 Expert Review: After Paasche retired its classic AB model they later brought out the Vision as their new ultimate detail airbrush. The design of the Vision is worlds apart from that of the AB turbine style airbrush but its versatility makes it a superior substitute. It's basically an advanced version of the Talon TG so all the parts are interchangeable with the Talon series. The fact that it comes equipped with a 0.2mm hand polished needle/nozzle set and a builtin micro air control valve makes it a great economical alternative to the Iwata Micron C Plus (which costs almost $600 or about three times the cost of the Vision.) The fact that its plated with black chrome and high quality display case makes it must have for the airbrush collector. Price Range $160 to $200.
Design:

★

★

★

★

Quality:

★

★

★

★

Cost to Performance Ratio:

★

★

★

★

★
In addition to having slick black chrome plating this new model can produce very fine lines and is perfectly designed for illustration, scale model painting, detailed automotive murals etc. The Paasche TGX Vision builds on the quality and success of the Talon TG design by adding some key features.
FEATURES:
– .2mm fine tip nozzle size
– Hand polished hardened stainless steel needle
– New sloped style trigger design
– Air control valve fine tunes atomization
– Plated with black chrome
– Additional 0.6mm nozzle, cap, needle set
– Fan Cap for spraying a fan pattern
– 2 Wrenches
– Exclusive aluminum case
Regular price: $285.00

Sale price: $169.99