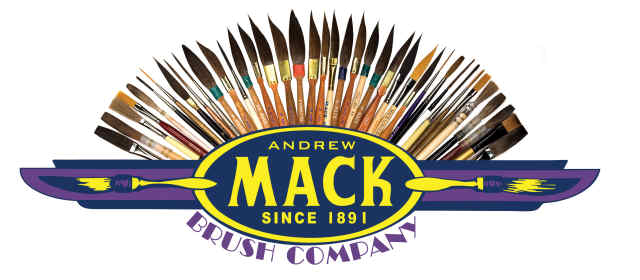 From the Mack Brush catalog:
"The brushes we use for painting signs and pinstriping all come from
one of these two types of material that form the tuft of a brush…
SYNTHETICS:
These are man-made of either nylon or polyester.They may come tipped, tapered, flagged, abraded or even etched to increase the brushes' ability to carry color. The man-made filaments may be dyed and baked to make them soft and more absorbent.The advantages of a synthetic brush are as follows:
1.They are very durable.
2.They are less likely to be damaged by moths, paints or mild solvents.
3.They are easier to clean.
4.If you are using an acrylic paint, use a synthetic brush.
NATURAL:
No animals are raised or trapped for the sole purpose of making a brush. Natural animal hair may be used in its pure state or mixed with other types of hair to accomplish a particular mixture for price, and or, performance. Natural hair will hold a tremendous amount of paint, because it has microscopic scales along the shaft of the hair. Quality and price of natural hair is determined by the grade of animal, and by supply and demand. Generally speaking, longer hair is harder to find and more expensive than the shorter length."
TYPES OF NATURAL HAIR: Camel Hair, Pony Hair, Ox Hair, Red Sable, Sabeline, Kolinsky Sable, Hog Bristle and Squirrel.
Squirrel hair is most commonly used hair for pinstriping and lettering brushes.
"Blue squirrel is the most readily available and comes in long lengths, as well as short lengths. It is generally used for striping brushes and lettering brushes. Brown, or kazan, is no longer as plentiful as it was several years ago. It is generally found in the shorter lengths and used for stripers, quills, and outliners. Both blue and kazan are very soft and fine. They point as well as kolinsky, but have very little snap, since the hair is not very resilient.Grey squirrel is the hardest to find and the most expensive.It is more durable, has more snap and makes a great quill or lettering brush."
---
Pinstriping, Lettering and Art brushes…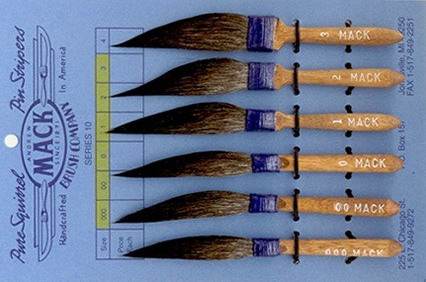 Series 10 – The Original Sword Striping Brush
-100% Unmixed Blue Squirrel Hair
-Hand Crafted And Shaped
-Extra Attention Given To Quality Control With Respect To Shape And Cleaning
-The Very Finest Grade Of Blue Squirrel
-New Blue Thread Ferrule
---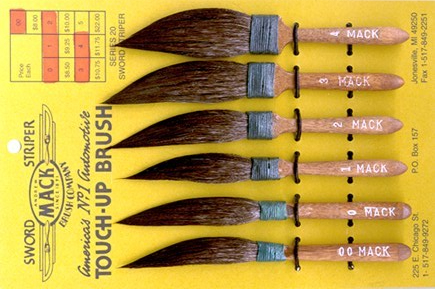 Series 20 Sword Striper Pinstriping & Touch-Up Brush
Used by all leading Body Shops for Paint Touch-Up and Pinstriping.
Lacquer and Enamel Resistant The Sword Style is the Best for All-Around Work Excellent for Auto Body Touch-up and Pinstriping
---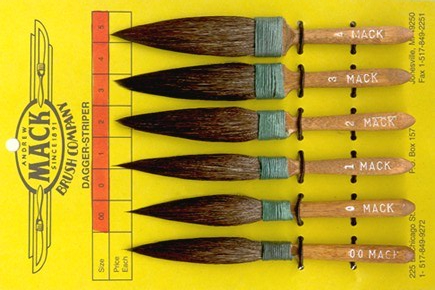 Series 30 Dagger Striper
100% Pure Unmixed Squirrel Hair
* Stripers Are Lacquer and Enamel Resistant
* The Dagger Style is a Valuable Accessory For Many Purposes
* Finest Quality Squirrel Hair
* Dark Green Thread Ferrule
---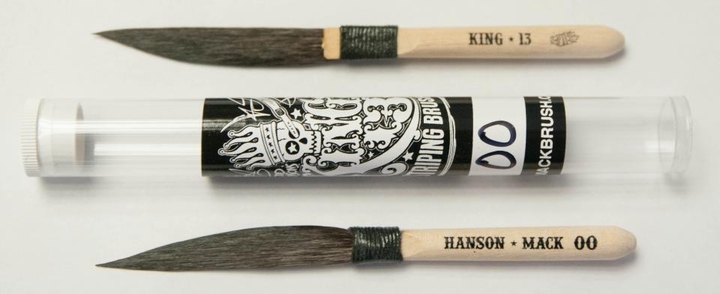 KING 13 Brushes by Todd Hanson
The brush has more pull in the making process giving it a little more taper than a traditional striper. The amount of hair that is distributed onto the handle during the making process is configured differently than the ogrinal 10 series.
---

Hot Rod Surf Brush
This is a multi-functional brush that is great for that 50s style freehand pinstiping and rugged enough to be put into daily professional use. Classic dowel handle with European dressed blue squirrel hair.
---


Mack Longstriper 1111
A synthetic haired brush created in homage to the Grumbacher 1010. Great for commercial work. Withstands wind and moisture very well.
---
Triple Hippie Striping Brush
The HIPPIE TRIPLE is a 000 size brush with full length hair. These bad boys handle like a sports car and carry enough paint to actually get some lines thrown down without having to re-load.
---


1644 The Ultimate Long Line Striper Brush
Extra Long Striper. Great for long thin lines!
Features:
-Wood handle
-Gold ferrule
-Pure Blue Squirrel Hair.
-This brush is shaped like a Fast-Lite Striper.
---


Series 70 Pinstriping Brush for Water-based
Made with mixed hair to give the brush more body. Water-base paint has a higher density and we must mix taklon with pure squirrel for body and snap. A generous amount of pure squirrel ensures the brush can carry enough paint to make it a good striper.
---


Series 75 Taklon Striper Brush
This is a synthetic striper with a wood lacquered handle and brass ferrule.
---


The Long Bob
GREAT FOR BEGINNERS!
With the mixture of hair that is used, this provides medium versatility for enamels as well as urethanes without compromising performance. The smaller sizes offer intricate design work capabilities coupled with very tight cornering.
---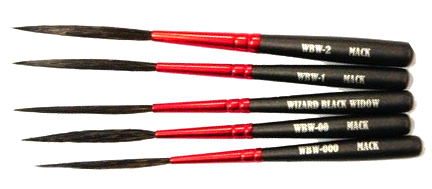 The Wizard Black Widow Scroller Brush
Developed for maximum control and response, to the specs of a veteran scroll striper, it holds the line and delivers beautiful results.
---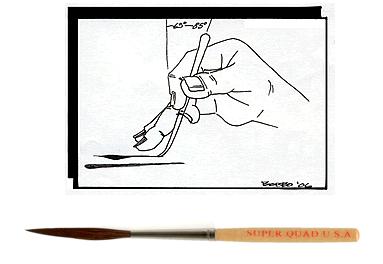 Bobbo-Mack Super Quad 4 Action Brush
This brush because of it's shorter bristles and fine blue squirrel & black synthetic hair makes scrolling easier and faster. It also pinstripes short lines, 2-4 feet in length without having to change brushes. Plus it will let you letter your signature very small and also do small script lettering.
---


Mack Series 7800 Super Quad Brushes
This brush has all the same attributes and capabilities of the Bobbo Super Quad but in a long handled version.
---


The Wizard Vortex Scroll Striper – Blue Squirrel Hair, Grey Handle
Steve Chaszeyka writes: "If you use scroll striping, you'll love this brush! After 30 years of scrolling, we've developed what I think is the finest brush available for this style. It gives beautiful controlled lines that respond exactly to your movements without the slightest hesitation, splitting or fraying in the turns. It holds its line throughout the pattern and gives you more response — like the most expensive brushes used for scrolling. I recommmend this for beginners as well as seasoned veterans of this style."
---


The Wizard Typhoon Scroll Striper – Kazan Squirrel, Bronze Handle
Steve Chaszeyka writes: "Just a 'hair' faster than the Vortex, but with all the quality, this baby moves right along. As fast as you can think of a design, the typhoon seems to read your mind and anticipate your next move. The hair was chosen for quick response time and accurate placement on any surface. I especially like this brush for motorcycle work because of the curved surfaces and the brushes 'forgiveness' in tight turns. I am amazed at its performance every time I use it."
---


Mack "The Virus" Series 444 Scrolling Script Brush
One of the sign industries most exciting and innovative new brushes affectionately called "The Virus." The series #444 is a specially blended golden taklon. This recommended design by the industry leaders is perfect for scroll and script work.
---

Jenson's Swirly Q Brushes
Designed for scroll striping and script lettering with enamel based paints. Scroll striping requires thinner paint. If mineral spirits were to be used, the paint would run easier.
---

MACK DC Micro Script by DeWayne Connot
SYNTHETIC DETAIL BRUSHES ARE NO COMPARISON TO THE NATURAL HAIR AND POINTED DETAIL BRUSH OF THE NEW MICRO SCRIPT BRUSH. YOU WILL GET THE FINEST LITTLE LINES AND DELICATE TOUCHES YOU DIDN'T EVEN BELIEVE WERE POSSIBLE!
---

DC Micro Mono Brush Set by DeWayne Connot
After using synthetic brushes, one might wonder if a natural haired brush could compare and perform. The new Mirco Mono brush from Mack does just that. It's a soft haired brush with just the right snap! Doing small letters will never be easier when you use this brush.
---

MACK Series 179L Lettering Quills
This brown quill is handmade in France & Germany by highly specialized brush makers. This lettering quill is an essential tool in every sign painter's kit. The brown quill is best suited for smooth surfaces such as glass or automotive surfaces. Brown Quills are slightly softer than the grey quills.
---

MACK Series 189L Lettering Quills
The grey quill is also handmade in France & Germany and it is equally as important as the brown as an essential brush for the sign painter. The series 189 or 189L is a universal lettering brush. The grey hair has more snap than the brown. It is used for general commercial work such as signs, truck lettering, boats, etc. The grey hair is more durable than the brown, and this brush is suitable for lettering on most surfaces.
---


MACK Series 1962 Jet Stroke Lettering Brushes
The Series 1962 is an excellent overall lettering brush. It is normally used for larger lettering and production lettering. It can also be used as a fill-in brush and an outliner for large letters. The long hair length allows the brush to carry a lot of paint. This brush is suitable for most surfaces. It is a mixture of pure squirrel and black ox. It has a flat ferrule and the hair comes in graduated lengths.
---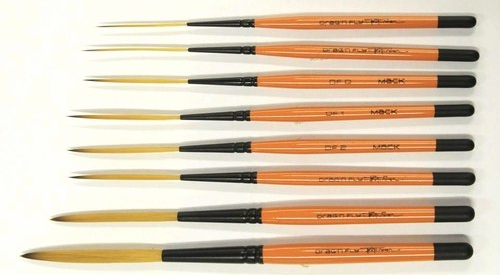 Drag'n Fly Brush Set by Ted Turner
A soft and snappy full synthetic ( Teijin ) long liner. Primarily intended for my own style of lettering, pictorials and pinstriping. This brush set flat-out performs superb for small lettering, script, outlining text and images.
---


Mack/Tidewell Brush – 6 Set
"Mack/Tidwell brushes? Well, I didn't set out to reinvent the wheel, however, I wanted to make a brush set for other artists like myself, illustrators who work in a few mediums. When you're working on finks, eyeballs, monsters, etc…these brushes will prove themselves invaluable. The purpose of the set is to make all of your detail work faster and easier, plain and simple. These brushes work great with enamels, acrylics, oils…" -Jeral Tidwell
---


Mack/Tidewell Brush – 3 Set
The  3 piece paint brush set includes:
"FIVE SPEED" basically a #5 script / scroll brush as the slim was basically a #3 or so.
"HEAVY" it's a little longer and fatter so it has a ton of uses… seriously.
"ONE-LINER" This is a completely new brush… it is Amazing for outlining, details, med. to long lines within an illustration. -Jeral Tidwell
---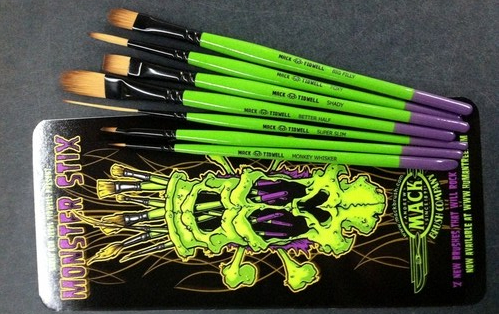 Mack Monster Stix Brushes from Jeral Tidwell
"These have synthetic bristles and can be used with 1-shot, acrylics, oils, and any other paint you can dream up… trust me, I have tried it." – Jeral Tidwell
---


BROKEN PINKIES
"These have synthetic bristles and can be used with 1-shot, acrylics, oils, and any other paint you can dream up… trust me, I have tried it." – Jeral Tidwell