The innovative development team at Grex have created some very user friendly compressors. They've thought of everything when it comes to the airbrush user's needs with these models from where to hold your airbrush to regulation .and arranged them all in a very accessible manner.
Both models are available in U.S. (110v) and European (220v) voltage.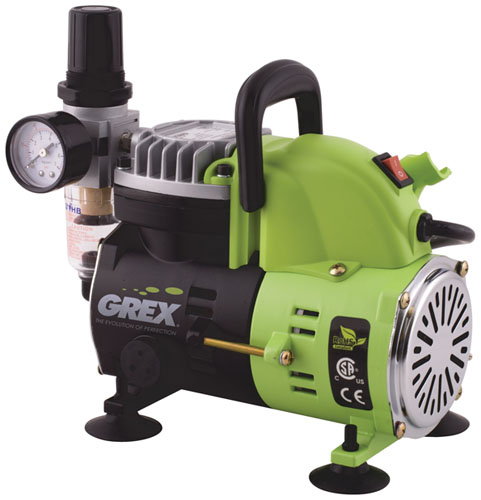 Expert Review: The AC1810 Compressor from Grex is one of the most well thought out compressors available today. It makes very little noise ( just a nice little purr) and has a very fast automatic shut-off. The moisture trap, regulator and gauge are all built in and always works perfectly.? The on/off switch is conveniently located on top of the compressor right next to a very durable slotted airbrush holder. The handle slides up and down for easy portability and packing. This compressor is highly recommend to any airbrush user needing less than 1cfm. Regardless of what brand airbrush you're using this is a great pick. It's also available in both US voltage (110v) as well as Euro (220v.)
Price Range $199 to $209.
Design:

★

★

★

★

★

Quality:

★

★

★

★

★

Cost to Performance Ratio:

★

★

★

★

★
Features:
– Oil-less piston design for quiet operation.
– Moisture trap prevents moisture from entering airbrush.
– Automatic shut-off ability.
– Carry handle bar for easy maneuverability.
– Compact and lightweight design for improved portability.
– Integrated airbrush holder for quick access and storage.
– Manual on/off switch.
– Included air regulator and pressure gauge
Specifications:
-Type: Piston Type Compressor
-Horse Power: 1/8 HP
-Displacement: 0.7 cfm (20 L/min)
-Speed: 1700 rpm
-Max. Pressure: 60 psi (4.1 bar)
-Weight: 11 lbs. (4.98kg)
-Power: 115V / 0.96 A / 60 Hz
Item# AC1810-A
Regular price: $239.80
Sale price: $199.00
Item# AC1810-B
Regular price: $259.60
Sale price: $209.00
---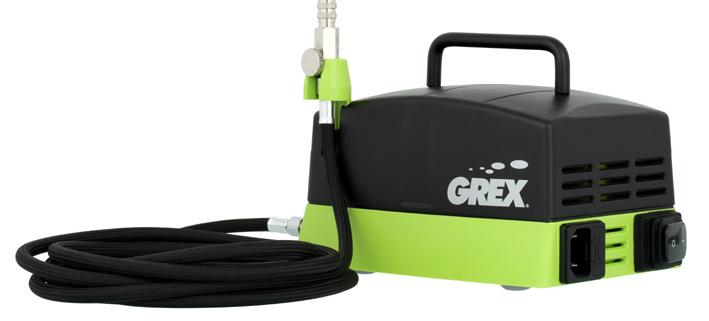 Grex Aeris I Airbrush Compressor
Expert Review: The Aeris is a handy little compressor that especially makes sense for the traveling makeup artist. The lightweight yet sturdy 3 pounder is easy to pack into a suitcase, handbag or backpack and the detachable power cord adds to its packing and toting convenience. There is no moisture trap or gauge included with the Aeris but it does include a G-MAC regulator which is a major bonus. For most airbrush users I would recommend paying the extra $30 or so and upgrading to the AC1810 but for those who really need a small convenient and portable compressor the Aeris is a great option. It's also available in both US voltage (110v) as well as Euro (220v.)
Price Range $168 to $178.
Design:

★

★

★

★

Quality:

★

★

★

★

★

Cost to Performance Ratio:

★

★

★

★
Max Pressure: 2 bar (29 psi) *
Displacement: 15 L/min (0.53 cfm)
Net Weight: 1.3 kgs (2.9 lbs.)
Dimensions: 190L x 125W x 95H mm (7.5″L x 4.9″W x 3.7″H)
Noise Level: 58 dB
Air Outlet: 1/8″ NPS male fitting
Applications: Beauty makeup, cake and food decorating, hobby, arts and crafts ….
Item# I-A
Regular price: $198.00
Sale price: $168.00
Item# IB
Regular price: $219.00
Sale price: $178.00