The Patriot, Model 105, is a comfortable, reliable, cost-effective, user-friendly gravity feed airbrush, designed for use by experienced, as well as novice airbrush enthusiasts.  Its two angle needle tip precisely mates with the Patriot's cone shaped nozzle, enabling a single needle/nozzle configuration to spray a variety of materials, while eliminating the need for multiple needle/nozzle variations.  It has a 1/3 ounce permanently mounted color cup with a convenient spill-proof cap.
The Patriot's body design provides exacting balance and long-term user comfort.
The Patriot is a low maintenance airbrush, easy to clean and simple to operate; it will spray any properly reduced paint or airbrush-ready media.
Developed to deliver precise performance and fine line detail, the Patriot is an ideal airbrush for custom art, graphic arts and illustrative work. The Patriot airbrush will operate at 30 PSI, as well as lower pressure settings (10-15 PSI) and is ergonomically balanced for hours of comfortable airbrushing.
FEATURES
• Single needle/nozzle for spraying all mediums including inks, dyes, watercolors, properly reduced acrylics, enamels, lacquers, and airbrush-ready colors including SpectraTex, Air-Opaque, Air-Tex, Modelflex, and Totally Tattoo.
•

Single needle/nozzle sprays pencil thin lines to 3" (76mm) spray pattern

•

Minimal spare parts

• Easy cleaning and maintenance
•

Patented handle design produces the fastest needle release on the market

•

Finger tight assembly tolerances

•

Excellent for multiple applications, for novice to advanced airbrush users

•

Lifetime warranty on labor and PTFE seals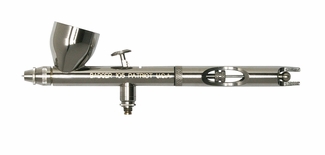 Regular price: $126.00

Badger Patriot Xtreme 105 Airbrush
~ New High Roller Trigger design that is .25" taller than other airbrush triggers. This design allows much less effort in the movement of the trigger, and much greater response as the artist "rolls" the trigger rather than pulling it.
~ New Accuracote finish technology gives the airbrush a slique gun metal look. We call it Dark Ice. But more importantly its Teflon-like characteristics make it much easier to clean – especially down in the airbrush's color cup.
~ New Precision Air Control (PAC) dial allows the artists to reduce and increase the air flow to the airbrush nozzle causing a moderation in the airbrush's atomization to produce tight crisp spray patterns or, often desired, "erratic" spatter and scatter dot patterns.
~ The Xtreme Patriot has quick-pick Torpedo Tip nozzle design making it simpler than ever for artists to access the needle/paint tip point to remove tip dry – if it ever even occurs, and that's a big if!