Expert Review: Although the ergonomic padding makes them look a little bit like something from Bed Bath and Beyond, the Genesis XGi and Genesis XSi are serious airbrushes with seriously impressive features and options. With parts interchangeable with the Tritium series, including cup sizes and nozzle sizes and even fan caps, this airbrush can be anything you want it to be! Plus, the super comfy ergonomic padding will help you avoid the dreaded "claw" (hand cramping up into the shape of a claw) airbrushers so often endure. Price $168.
Design:

★

★

★★

★

Quality:

★

★

★

★

Cost to Performance Ratio:

★

★

★

★

★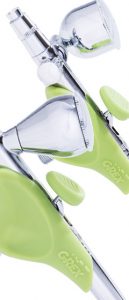 Ergonomics meets versatility! The clever designers and engineers at Grex have come up with another idea to make airbrushing more approachable to beginners and more comfortable for all users: a soft ergonomic hand grip! Another improvement over the previous models is that the XGi (gravity-feed) and XSi (side-feed) airbrushes are available in three different nozzles sizes (0.2mm, 0.3mm and 0.5mm) and include several cup sizes as well. This airbrush is highly recommend for beginners or anyone seeking a more comfortable experience.
Ergonomics:
The key feature to these new XGi airbrush is the soft ergonomic hand grip set that provides total comfort and improves on the handling of the airbrush. This rubberized soft grip fits snugly around the air vale and is shape perfect to accommodate any hand size. Also included is the soft trigger cover making it easier on the users finger tip to pull the trigger. The combination of these two elements help immensely to avoid hand cramping or the dreaded airbrush "claw." This makes the XGi a great option for anyone
Versatility:
The new XGi is modeled after the Tritium series of airbrushes (and in fact uses the same needle, nozzle and air-cap as the Tritiums!) These new designs hold a plethora modification options including 4 available nozzle sizes. Wouldn't you love to be able to change your airbrush's nozzle size from 0.2mm to 0.3mm to 0.5mm and even 0.7mm quickly and easily. Grex makes it especially easy by selling the necessary parts in convenient Conversion Kits. Plus the XGi nozzles have larger threading then the old XG making them much easier to screw in and out. The XGi also interchangeable cup sizes and a wider assortment of cup sizes to choose from including the the 2ml, 7ml and 15ml which are included.