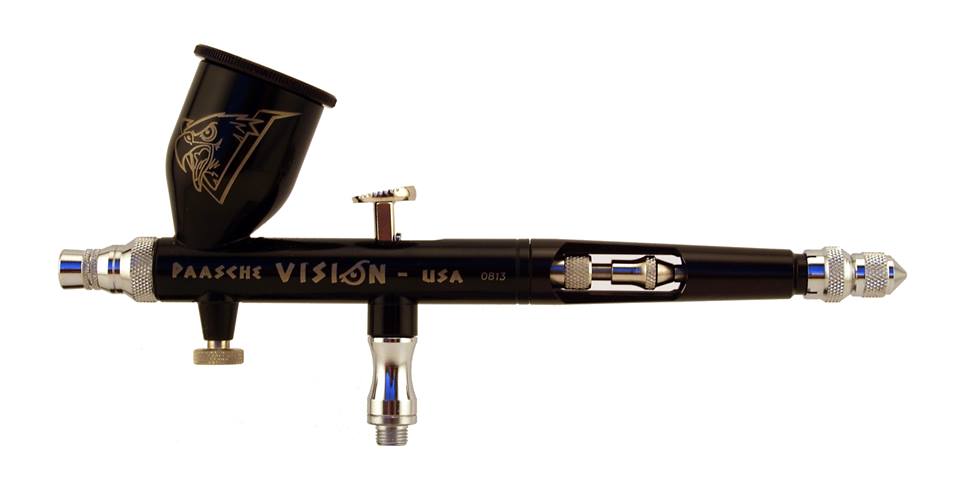 Paasche Vision Airbrush
– .2mm fine tip nozzle size
– Hand polished hardened steel needle
– New sloped style trigger design
– Air control valve fine tunes atomization
– Plated with black chrome
In the wake of retiring the beloved Paasche AB Turbine airbrush, Paasche's latest model, the Talon TGX Vision, puts them back into the fine detail airbrush market. In addition to having slick black chrome plating this new model can produce very fine lines and is perfectly designed for illustration, scale model painting, detailed automotive murals etc. The Paasche TGX Vision builds on the quality and success of the Talon TG design by adding some key features.
Regular price: $279.00

Sale price: $167.40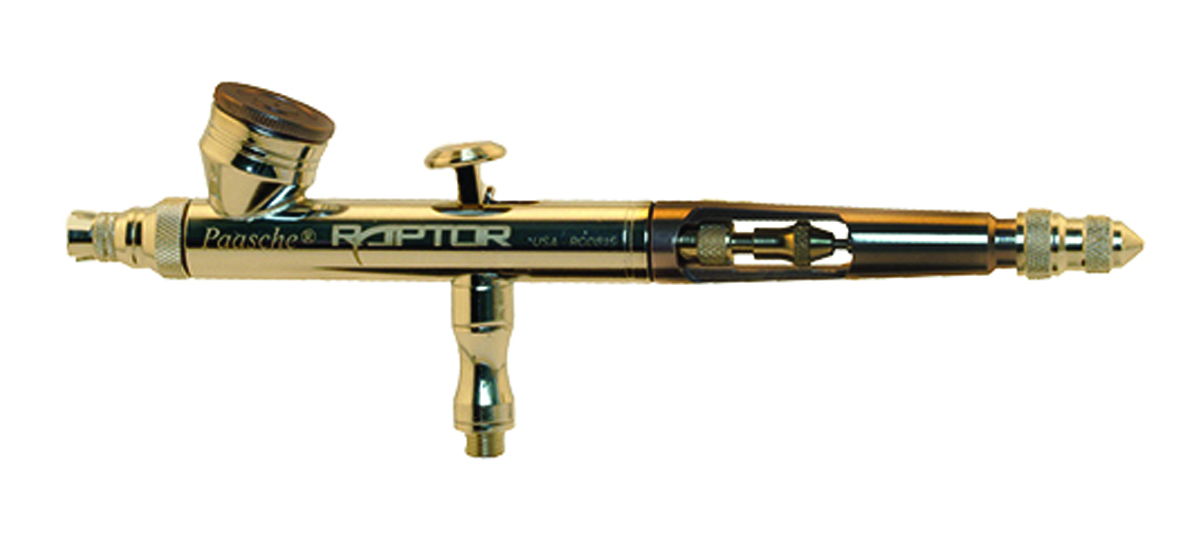 Paasche Raptor Airbrush
-.38mm Fluid Tip, Needle and Crowned Cap
– 1/8 Ounce Cup with Cover
-Sprays Hair Lines to 1 1/2 Inch Patterns
-Cutaway Handle with Preset Needle Stop.
-New Trigger, Piston and Air-valve style.
This airbrush features a chrome plated body and anodized aluminum handle for durability. The paint reservoir is smaller than the Talon series to allow an unobstructed view of the painting surface. The RG is a fine detail airbrush allowing the user to achieve hair line detail or patterns up to 1 inch. The handle includes a needle stop to assist with consistent paint release and a PTFE packing allows the RG to handle any water or solvent based paint or thinner.
Regular price: $123.00

Sale price: $73.80
Regular price: $147.00

Sale price: $88.20
Regular price: $169.00

Sale price: $101.40