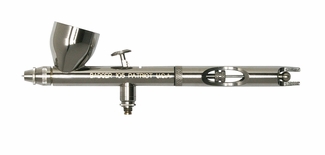 Badger Patriot 105 Airbrush
Item# 105-1
Regular price: $125.00
Sale price: $87.50

Perfect not only for beginners but also experienced users seeking a simple low maintenance airbrush.
The two-angle needle design of the Patriot adds versatility in spray pattern size, canceling the need for multiple nozzle sizes.
The simple yet balanced body design of the Patriot allows for long hours of comfort when in use.
Design simplicity continues through the inside of the airbrush making it easy to clean, maintain and opperate!
The Patriot will spray any type of properly reduced paint and operates at 30 PSI as well as lower pressure settings making it suitable for many applications including: custom automotive art, body art, graphic arts, illustration etc.
FEATURES:
• Dual Action and Gravity Feed
• Sprays all mediums
• Sprays pencil thin lines to 3" (76mm) spray pattern
• Easy cleaning and maintenance
• Patented handle design for fast needle release
• Finger tight assembly tolerances
• Lifetime warranty on labor and PTFE seals
Item# 105-1
Regular price: $125.00
Sale price: $87.50