Expert Review: They call it the Raptor (cool name) but it's basically a Paasche Talon TG with a much smaller (1/10oz) cup and lid. I guess Paasche has this whole birds of prey theme going on which is pretty cool. And just like the Talon you're getting an awesome airbrush at a great price in the Raptor. The versatility is there with the four available nozzle sizes (0.2mm, 0.25mm, 0.38mm & 0.66mm) and fan cap option. The cup is fixed so unlike the Harder Steenbeck or Grex Ergonomic models, you can't change cup sizes. At least now you have choices: the lil' cup Raptor or the biggie cup Talon TG. Price Range $72 to $100.
Design:

★

★

★

★

Quality:

★

★

★

★

Cost to Performance Ratio:

★

★

★★

★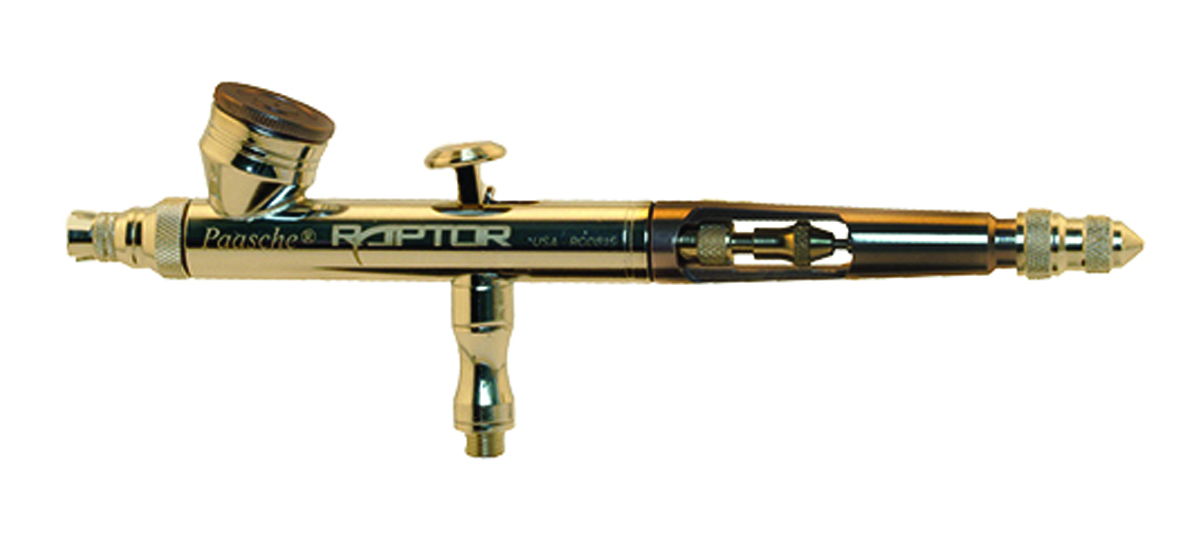 This airbrush features a chrome plated body and anodized aluminum handle for durability. The paint reservoir is smaller than the Talon series to allow an unobstructed view of the painting surface. The RG is a fine detail airbrush allowing the user to achieve hair line detail or patterns up to 1 inch. The handle includes a needle stop to assist with consistent paint release and a PTFE packing allows the RG to handle any water or solvent based paint or thinner.
Clean up is as simple as spraying your paint cleaner though the airbrush and wiping of the needle. Applications include automotive graphics, models, taxidermy, cake decorating, tattoos, finger nails, graphic arts, illustration, etc. The RG airbrush is made and assembled in the US.
Regular price: $123.00

Sale price: $71.96
Regular price: $147.00

Sale price: $85.99
Regular price: $169.00

Sale price: $98.87