Sparmax manufactures powerful, compact, maintenance-free, light weight, ultra quiet compressors. Built for performance and usability. Designed with the airbrush enthusiast in mind.
They offer a versatile selection of compressors which feature well made components such as coherent pressure gauges, ergonomic built-in airbrush holders, multiple air outlets and air tanks to enhance their performance by reducing pulsations in airflow and decreasing stress on the motor.
Sparmax Compressor Specifications:
| MODEL | Horsepower | Air Pressure | Flow | Tank Size | Weight | Auto Shut-Off |
| --- | --- | --- | --- | --- | --- | --- |
| AC-27 | 1/8HP | 1-30 psi | .45 cfm | N/A | 6.4 lbs | No |
| ARISM mini | 1/8HP | | .49 cfm | N/A | 5.5 lbs | No |
| AC-501 | 1/8HP | 1-40 psi | .57 cfm | N/A | 7 lbs | Yes |
| TC-620x | 1/6HP | 1-45 psi | 0.875 cfm | 3.5 liters | 26.5 lbs | Yes |
| TC2000 | 1/6HP | 1-45 psi | 0.875 cfm | N/A | 10.6 lbs | Yes |
| ARISM | – | 25-35 psi | .53 cfm | N/A | 5.7 lbs | No |
---
The AC-27 is a compact light-weight air compressor that is suitable and convenient for many applications including: makeup, nail-art, hobbies, bakery, fine art and illustration. The fully functional pressure knob and gauge gives the user full control of the air flow while the integrated airbrush holder provides added convenience. Perfect for beginners.
‧Air Pressure: Max 45psi
‧Air Flow: .42-.46 CFM
‧Horse Power: 1/8 HP
‧Weight: 6.4 lbs
‧Size : L16 x W15 x H18 cm
‧Regulator and gauge
‧Airbrush holder
‧4 meter coiled air hose
Item# AC27
Regular price: $262.00
Sale price: $109.00
---
The ARISM Mini is a powerful and compact compressor; designed for workbench applications whilst saving the user space. As a smaller unit, it was also designed to be highly portable, for use on-the-go, and easy to store. In keeping with it's compact nature, the ARISM Mini also has a built-in airbrush holder on it's handle, meaning less moveable parts to store or change. This is the quintessential compact compressor for all ages and experience levels, and will be released with 8 color options.
-Zero- maintenance, oil-less piston air compressor
-Preset maximum pressure: 45 psi
-6.5′ Braided hose
-Built-in airbrush holder on the handle
-Adjustable pressure knob
Specifications:
Airflow: 0.49CFM
Weight: 5.5 lbs
Size: 7″ x 3.5″ x 6.7″
Regular price: $259.00
Sale price: $137.66
---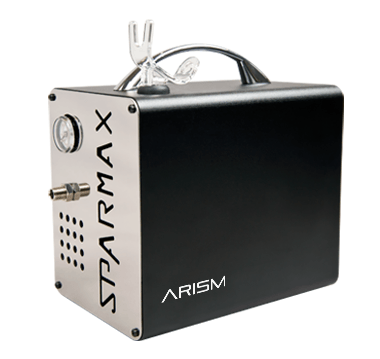 Sparmax ARISM Airbrush Compressor
With a sleek and modern design, Arism is aimed at airbrush enthusiasts and artists looking for the compact, yet powerful, light weight compressor for airbrushing. When paired with the airbrush bleed valve and SilverBullet airbrush moisture trap, users are presented with a combination of greater airflow control and an extended handle on the airbrush for comfort and relieving muscle tension.
• Zero- maintenance, oil-less piston air compressor
• Pressure On/Off switch of 25 psi/35 psi
• Equipped with airbrush bleed valve & silverbullet airbrush moisture trap
• 3M Braided hose
• Airbrush holder
• Detachable power cord & plug
• Pressure gauge
Product detail:
Airflow13 – 15 lpm
Weight: 2.6 kgs / 5.7 lbs
Size: L19.2 x W12 x H18.5 cm
Regular price: $299.00
Sale price: $158.92
---
The Sparmax TC-501 is the perfect compressor for the airbrush artist who demands clean dry air. In addition to heavy duty moisture trap the TC-501 has the two hose system which collects much of the condensation before it reaches the moisture trap. Great for many application including illustration, fine-scale model painting, makeup and more.
Features:
‧Horse Power: 1/8 HP
‧Automatic Shut-Off
‧Air Pressure: up to 40psi (60psi MAX)
‧Air Flow: .42-.57 CFM
‧Weight: 7 lbs
‧Size: L24 x W14.5 x H17 cm
‧Detachable air regulator, moisture trap and gauge
‧Coiled air hose for added filtration
‧3 meter braided air hose
Regular price: $369.00
Sale price: $196.12
---
The Sparmax TC2000 has a twin piston 1/6HP zero maintenance unit with a working pressure of 40psi. Comes equipped with Pressure regulator, Moisture trap, Gauge set, 2 way airbrush hanger, airbrush adapters, spare intake filters, a straight braided airline and a PU curly airline.
‧Motor : 1/6 HP AC
‧Automatic Shut off
‧Preset 40psi on/60psi off
‧Airflow : 23~25 lpm
‧Weight : 4.8 kgs / 10.6 lbs
‧Size : L26 x W15 x H17 cm
Regular price: $415.00
Sale price: $220.57
---

Sparmax TC-620X Airbrush Compressor
The Sparmax TC-620X offers tremendous versatility, style and functionality. This compressor is extremely portability for its size and power. Its lightweight metal housing both protects it and makes for easy storage. All the accessories needed such as hoses, regulator, filter, and gauge are included and the ample 2.5 liter air tank makes this compressor the ultimate clean and reliable air source. Plus, this machine is geared up to run two airbrushes at the same time!
‧ Air pressure: 40 psi/60 psi
‧ Air Flow: .81 – .88 CFM
‧ Zero maintenance
‧ Encased regulator, moisture trap & gauge
‧ Automatic Shut-Off
‧ 2 x detachable airbrush holders
‧ 2 x air outlets
‧ 2 x 3 meter braided hoses
‧ 2.5 Liter Air tank with gauge
Regular price: $564.00
Sale price: $299.77