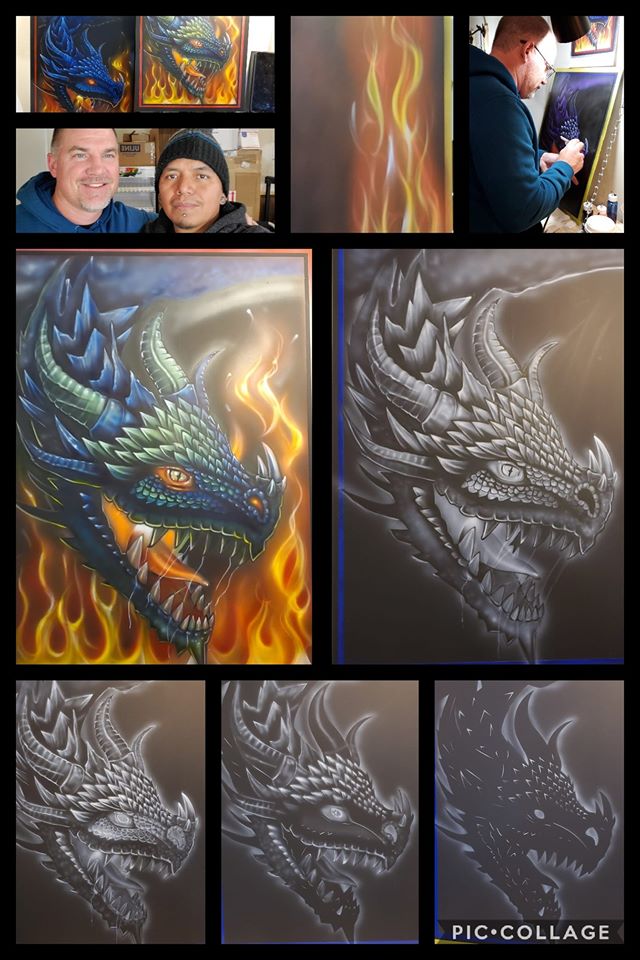 Plenty of happy students at the Next Level Airbrushing Workshop and every ones dragon turned out great! Hope to see everyone next time. Photos by Jose Art.
All equipment and materials are provided!
Both workshops will be held at Midwest Airbrush Supply Co. located at 860 N California Ave Chicago IL. For those coming in from out of town, we're about a 9 minute Uber or Lyft ride from the Robey Hotel in Wicker Park and about a 20 minute ride from most hotels downtown.
Intro to Airbrush with Ken Johnson Saturday November 16th 10am to 4pm
Learn fundamental airbrush techniques from a pro! Perfect for the absolute beginner or anyone wanting to brush-up on their skills. No experience necessary.
Saturday November 16th 10am to 4pm $99
Next Level Airbrushing with Ken Johnson – Sunday November 17th 9am to 5pm
This workshop is for the intermediate to advanced student who wants to take their skills to the next level. Whether you want to new learn tips and tricks to maximize profits as an artist for hire or just want to improve, this is an amazing opportunity to learn from one of the best airbrush instructors in the industry!
Sunday November 17th 9am to 5pm $149
For more information call 872-829-2275