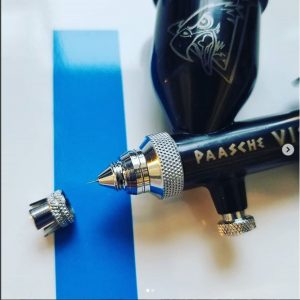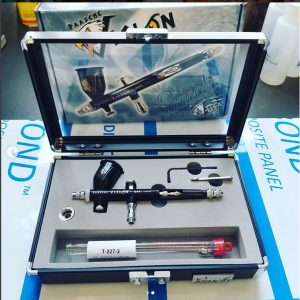 With its .2mm hand polished needle the Paasche Vision airbrush can achieve INCREDIBLE detail. Passche really stepped up their game when they released this a few years ago as they phased out the famous AB turbine airbrush. This airbrush is no joke!
💀💀💀
TGX-2F (Set) $163.22
TGX-0L (Airbrush Only) $110.57
Hear what people are saying about it on our Instagram feed:
billyradd

Made in the 🇺🇸. Gets my money! 🤑

mcfizzz

I want this gun (airbrush) so so bad just can't afford it right now. Man I want to spray with it. ❤️❤️❤️😱😱😱🤤🤤🤤🤤🤤🤩🤩🤩🤩🤩

mcfizzz

I love love paasche airbrush. 🤩

docgomez6

I recently returned to Paasche!! I purchased the TA#2. I was stuck overpaying for Iwata parts, whenever a tip or needle would get bent!! They had me over a barrel!! But, NO MORE!!!! I started out with the VL#3, as a t- shirt artist. And, I loved embarrassing my coworkers! I could pull a finer line, with my #3 needle than they could, with the finest needle that Iwata had ta offer!! I am so, INCREADIBLY happy, now that I have the best, back in my hands!!!!! PAASCHE RULES!!! find me at docgomez6, on Instagram…

johnswindowpainting

Been itching to try this bad boy…keep me posted as you use it

airbrushgary

Wish that cup was smaller. That thing is a five gallon bucket! 😂

midwestairbrush

@airbrushgary it is rather large. Check out the Raptor if youre in to smaller cups. Might profile that one next.

didbybiz

oh really wow I've been in the dark or just blinded with iwata.

docgomez6

Paasche is truly awesome!! I'd pick Paasche over iwata…lol…I just did!!!